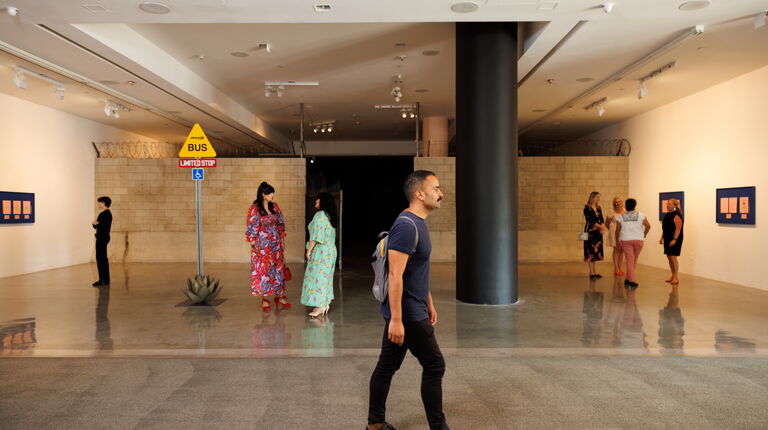 Summer 2023 Getty Marrow Curatorial Internship at REDCAT
The Getty Marrow Curatorial Intern
(Full Time Summer Position)
Thanks to the generous gift of the Getty Foundation, this summer's Getty Marrow Curatorial Intern will work directly with REDCAT´s Chief Curator and Deputy Director, Programs, Daniela Lieja Quintanar and Deputy Executive Director and Curator, Edgar Miramontes to produce the summer and fall 2023 exhibitions and interdisciplinary programs at REDCAT.
The Intern will assist both curators with research, organization, and production for an upcoming exhibition related to CalArts' history. Additionally, part of the Curatorial Intern's work will focus on organizing the physical and digital exhibitions archive at REDCAT. They will also have the opportunity to learn how to plan and produce a seasonal program across disciplines (visual arts, performance, theater, film, talks, writing, and music), and engage modes of collaboration with artists, curators, and critics.
This Internship is for a student who is interested in learning about the production of artists' projects, curatorial research, and conceptualization of exhibitions through a multidisciplinary program.
Eligibility
Students must:
Be of a group underrepresented in museums and visual arts organizations, including, but not limited to, individuals of African American, Asian, Latino/Hispanic, Native American, or Pacific Islander descent.
Be currently enrolled as a full-time undergraduate in either a bachelor's degree program or an associate's degree program. Students must have completed at least one semester or two quarters of college by June. Students who graduated the semester or quarter immediately before the internship begins are also eligible. (Students who are enrolled in a second

BA

or

BS

program are not eligible.)
Reside or attend college in

LA

County at the time of the application
Be a United States citizen or permanent resident (non-citizen authorized to live and work in the United States on a permanent basis; also known as a "green card" holder). Students with

DACA

(Deferred Action for Childhood Arrival) status valid through the internship period are also eligible.
Note: Students can participate in the program multiple times but must intern at a different organization each summer.
Schedule
June 12 to August 18, 2023 (

REDCAT

can accommodate for certain dates)

Monday through Friday, 10 a.m. to 6 p.m., with intermittent evenings and weekends (32 to 40 hours per week)

Work will be conducted remotely on Mondays and in-person at

REDCAT

in Downtown Los Angeles Tuesday through Friday. Some weekends are required.
The internship is a paid full-time (40 hours/week) position, for a consecutive ten-week work period between June and August, 2023.
Deadline
March 30, 2023
To Apply
Please send 1) resume, 2) cover letter, and 3) contact information for two references to redcatjobs@calarts.edu. Letters of Recommendation will not be accepted.
About REDCAT
The Roy and Edna Disney CalArts Theater (REDCAT) is a multidisciplinary center for innovative visual and performing art founded by the California Institute of the Arts (CalArts) in the Walt Disney Concert Hall complex in downtown Los Angeles. Through performances, exhibitions, screenings and literary events, REDCAT introduces diverse audiences, students, and artists to the most influential developments in the arts from around the world, and gives artists in this region the creative support they need to achieve national and international stature. REDCAT continues the tradition of CalArts by encouraging experimentation, discovery and lively civic discourse.
Image credit: American Artist: Shaper of God, REDCAT/CalArts, Los Angeles, U.S., August 2022. Photo: Rafael Hernandez.