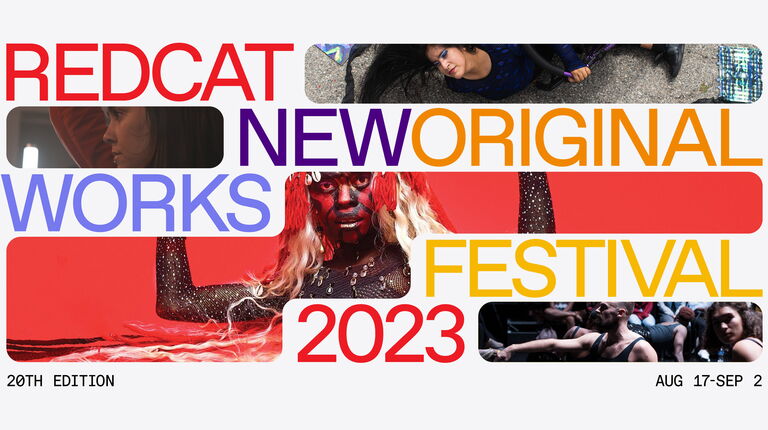 REDCAT proudly presents the 20th annual New Original Works (NOW) Festival, a celebration of Los Angeles' vibrant community of artists creating new performance work, over three weekends this summer.
This year's festival showcases nine new works by Los Angeles artists who are redefining the boundaries of contemporary performance, reinventing disciplines, reimagining traditions, and confronting today's most urgent issues. With a sharp interest in rituals, fantasies and memories, these works use history and technology to formulate diverse, other-worldly futures that provide a counterpart to our reality while allowing us to examine the injustices around us.
"Now more than ever, it is important to support the voices of artists, and we look forward to continuing this vital tradition for many years to come," said João Ribas, REDCAT's Steven D. Lavine Executive Director and Vice President for Cultural Partnerships.
NOW Festival 2023 was organized by Edgar Miramontes, REDCAT's former Deputy Executive Director & Curator, with Rolando Rodriguez, Administrative Manager. Participating artists were selected through an open application process helmed by a committee of artists and NOW Festival alumni including Sola Bamis ('11), Dami Spain, and Rosanna Tavarez.
Week One
AUG

17-19 at 8:30

PM
Week Two
AUG

24-26 at 8:30

PM
Week Three
AUG

31-

SEP

2 at 8:30

PM
Each of the three festival weekends features a triple bill of world premieres in a shared evening. Each program will premiere on Thursday and repeat Friday and Saturday at 8:30 PM. Performances will also be livestreamed each Saturday during the festival's run.
In the spirit of the California Institute of the Arts (CalArts), REDCAT's parent institution, the NOW Festival has served as a catalyst for creativity and new ideas for more than two decades. Each year, NOW Festival premieres new and innovative work in contemporary dance, theater, music, and multimedia performance by Los Angeles-based artists. All artistic teams receive production, technical support, and artist fees. Since the first edition in 2004, NOW Festival has presented the work of over 200 artists who continue to be seen on stages throughout the U.S. and abroad. 
Located in the Walt Disney Concert Hall, REDCAT has its street entrance at 631 West 2nd Street, Los Angeles, CA 90012. The closest metro stop is Grand Av Arts/Bunker Hill, across the street. Parking is available for a $10 fee. Accessible parking is located on level P3 with a direct connection to the REDCAT lobby. The gallery and lounge will be open before the performances. Seating is open and unassigned. Late seating is not guaranteed.