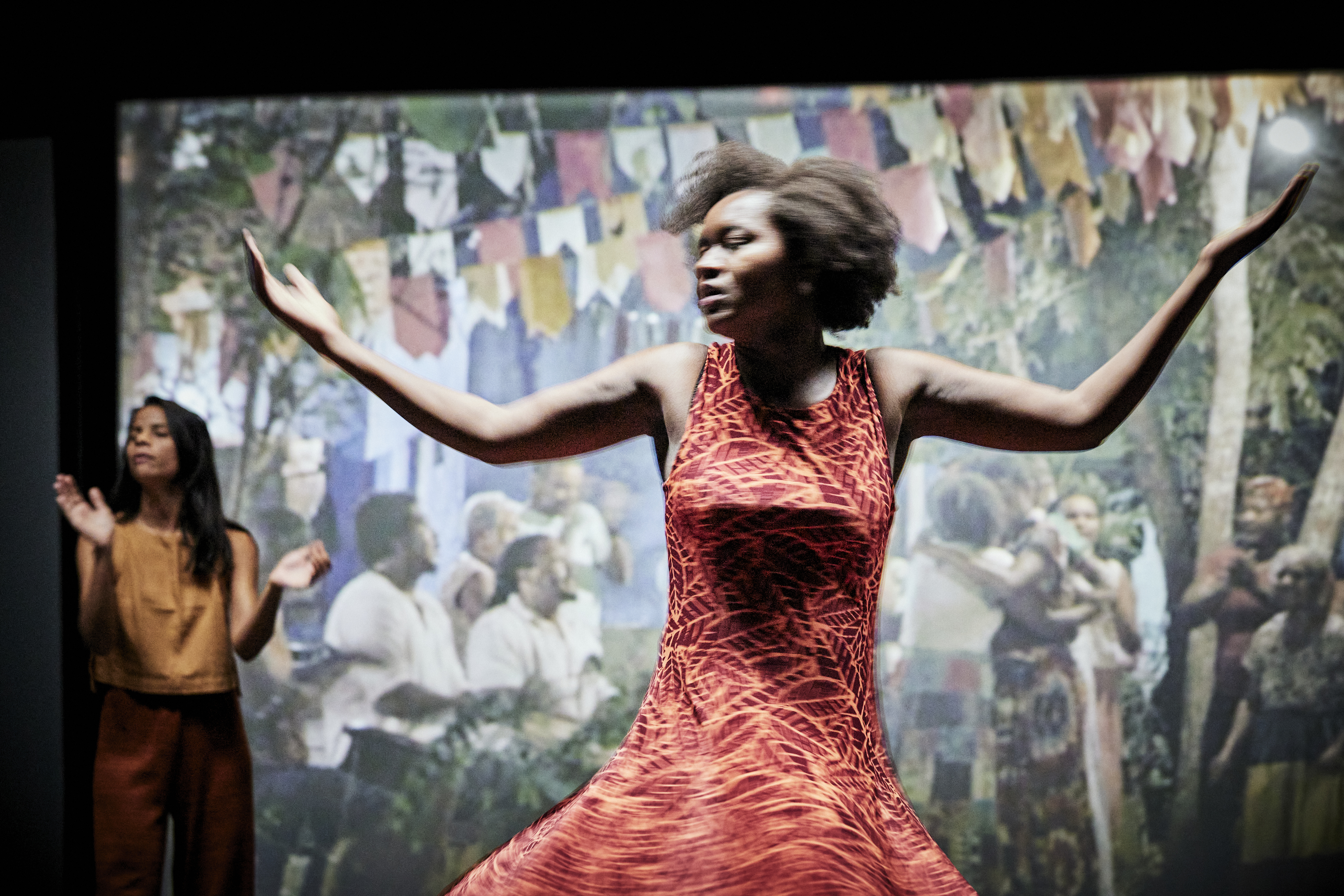 The Roy and Edna Disney CalArts Theater (REDCAT), CalArts' downtown center for contemporary arts, presents a slate of dynamic and innovative performances, screenings, events, and exhibitions, both in person and online, from September through December 2022.
The new season kicks off with two cutting-edge programs rescheduled from the Winter/Spring Season: Doris Duke Award-winning choreographer Faye Driscoll – hailed as a "startlingly original talent" by The New York Times – with her most recent work, Thank You For Coming: Space Sept. 15-17; and the latest film by world-renowned artist and CalArts Faculty, Sharon Lockhart, EVENTIDE (2022), accompanied by a live musical performance with Petra Haden, on Sept. 21.
Fall 2022 sees REDCAT taking part in several exciting theatrical collaborations. From Sept. 29 to Oct. 1, REDCAT presents the world premiere of Octavio Solis' Scene with Cranes with the CalArts Center for New Performance. Known for plays of satire, mythology, and steely realism, Solis is considered one of the most prominent Latino playwrights in America. In this production, directed by Chi-wang Yang, a tight-knit East L.A. family is left shattered in the wake of their youngest son's mysterious death.
From Nov. 17 to 20, REDCAT and The Broad present the international debut of artist William Kentridge's durational performance, Houseboy, premiering in conjunction with the exhibition William Kentridge: In Praise of Shadows, on view at The Broad from Nov. 12, 2022 through Apr. 9, 2023. Based on the 1956 novel by Cameroonian diplomat Ferdinand Oyono, the performance explores themes of historical participation, archival memory, and post-colonial identity with live music and percussion, Kentridge's own artwork, and an immersive multimedia experience.
From Dec. 8 to 10, REDCAT and Institute of Contemporary Art, Los Angeles present Double Future, a double-bill performance by My Barbarian, combining ancient Greek theater, mystery plays, and rock opera to tell the story of a religious cult engaging in human sacrifice to maintain the economic status quo.
Sept. 24 kicks off an exciting series of music at REDCAT with Bay Area artist SPELLLING premiering a series of new compositions for voice and synthesizer. On Oct. 8, the Oklahoma Intertribal Noise Symposium 2022 presents Autumn Chacon, Kite, TickSuck, Robbie Wing, and Nathan Young, artists "creating and destroying sound worlds and embodying Indigenous sonic agency," as Young describes. Leading into the event, artists Alisha Wormsley and Kite present a Black and Indigenous Dreaming Workshop on Oct. 7 and 8. The Angel City Jazz Festival returns to REDCAT on Oct. 22 with musicians Marquis Hill and the John Escreet Trio.
On Oct. 28, writer and Herb Alpert Award Winner Virginia Grise and Martha Gonzalez of the GRAMMY Award-winning band Quetzal present Riding the Currents of the Wilding Wind: From Sharp Shooters to Earthmovers, Roaming Dogs, Helicopters in the Sky, Quarantines and Men that Fly, a performance lecture directed by artist Kendra Ware. And on Dec. 4, a host of world-renowned performers from the Los Angeles music scene celebrate legendary composer and musician Anthony Braxton and his remarkable contribution to the fields of improvisation and contemporary composition. 
REDCAT presents Human Measure, the first contemporary dance piece from visual artist Cassils (Art MFA 02), Oct. 13 to 15. In the face of 82 anti-transgender bills currently on the books in the U.S., Cassils demonstrates movements grounded in oppression and resilience, culminating as dancers' bodies impress a stain upon a giant cyanotype. And the annual CalArts Winter Dance returns to REDCAT Dec. 2-3, presenting new work created and performed by faculty-artists from CalArts' Sharon Disney Lund School of Dance.
On Nov. 3-5, in the new and final part of her trilogy on colonial violence, acclaimed Brazilian theater maker Christiane Jatahy looks at how racism and capitalism are interwoven with Depois Do Silêncio (After the Silence). Writer, actor, art critic, and comedian Christina Catherine Martinez brings her live comedy talk show experience, Aesthetical Relations, to REDCAT on Nov. 11.
This season's film/video screenings feature a diverse line-up incuding pioneering filmmaker Ericka Beckman (Art MFA 76); artist Kahlil Joseph with his ongoing conceptual news program, BLKNWS; Spanish-Mexican director Sergi Pedro Ros; and an incredible array of Palestian, Filipino, queer Indigenous and Mestizx filmmakers.
In its Gallery, REDCAT opens Carl Cheng: Material Behavior, an exhibition of work by the pioneering LA artist on October 22nd. Throughout his nearly six-decade career, Cheng's artistic practice has been a means of exploring the capabilities of natural and manufactured substances. From his early use of emerging plastic technology for 3D photographs to his daily application of resin in his Liquid/Solid Series to his self-sustaining environments, Cheng continues to make art that demonstrates its own materiality and that encourages close observation from viewers. A reception and artist talk will be held on Oct. 26.
And that's just the beginning for this extraordinary season at REDCAT. For dates, details, or ticketing information, check out our full event calendar.